Biography | Performances | Discography | Reviews | Lyrics | Links | Tabs | New Music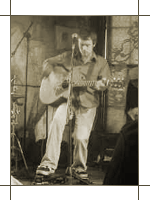 Damien Rice was born on the outskirts of Dublin in the early 70's and grew up in Celbridge Co. Kildare. He spent much of his childhood down by the River Liffey fishing...hours of catching little left plenty of time for thinking...

Damien was also part of an act called Juniper who managed to get a big record deal with Polygram, and released "The World Is Dead" and "Weatherman". However, all was not well. The record company put pressure on Damien to write upbeat radio friendly songs. Damien struggled and in despair one night stumbled onto to a song which became Amy. He left the band but the remains of Juniper became Bell X1.

In March 1999 he moved to Tuscany, then travelled around Europe, busking the streets. He arrived back to Dublin a year later, with a clear head, loaded with idea's, he approached his music with a new found freshness and decided to put some songs down.

Borrowing money from those that would lend it, he recorded his demo and sent it off to renowned producer and film composer, david Arnold (Bjork, James Bond). Arnold liked what he heard and provided enough money for Damien to buy his own mobile studio.